At the beginning of 2023, a special issue on "State policies and regulation related to migrant work during and beyond COVID-19", was published in the International Journal of Sociology and Social Policy. This special issue grew out of an IILME call for papers on this topic for the 2021 IMISCOE conference. The issue contains six papers that explore policies and regulations during and beyond the COVID-pandemic regarding different types of migrant work in a selected number of countries, including Japan, Finland, Austria, Italy, The Netherlands and the Czech Republic. The special issue was edited and coordinated by Stefania Marino and Lisa Berntsen, members of the IILME steering group. The issue can be found here.
Marino, Stefania, Judith Roosblad and Rinus Penninx (eds.). 2017. Trade Unions and Migrant Workers. New Contexts and Challenges in Europe. Cheltenham: Edward Elgar Publishing and Geneva: ILERA.

This timely book analyses the relationship between trade unions, immigration and migrant workers across eleven European countries in the period between the 1990s and 2015. It constitutes an extensive update of a previous comparative analysis – published by Rinus Penninx and Judith Roosblad in 2000 – that has become an important reference in the field. The book offers an overview of how trade unions manage issues of inclusion and solidarity in the current economic and political context, characterized by increasing challenges for labour organizations and rising hostility towards migrants.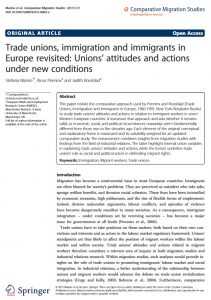 Marino, Stefania, Rinus Penninx and Judith Roosblad (eds.). 2015. Trade Unions, immigration and immigrants in Europe revisited: unions' attitudes and actions under new conditions.Comparative Migration Studies Vol. 3, nr. 1. Also published in the CMS special conference issue for the 15th IMISCOE Annual Conference in Barcelona, 2-4 July, 2018.
This paper revisits the comparative approach used by Penninx and Roosblad (2000. Trade Unions, Immigration and Immigrants in Europe, 1960-1993. New York: Berghahn Books) to study trade unions' attitudes and actions in relation to immigrant workers in seven Western European countries. It reassesses that approach and asks whether it remains valid, as economic, social, and political circumstances nowadays seem fundamentally different from those two to five decades ago. Each element of the original conceptual and explanatory frame is reassessed and its suitability weighed for an updated comparative study. The reassessment combines insights from migration studies with findings from the field of industrial relations. The latter highlight internal union variables attitudes and actions, while the former underline trade unions' role as social and political actors in defending migrant rights.